There's $300-$800 in accessories being spent on new vehicles sold today. It's grown to a $43 billion-dollar business, only 5% of which goes to the franchise dealer. The rest they concede to the aftermarket providers.
We as auto dealers invest hundreds of millions of dollars a year on new software technologies, marketing programs, consultants, and new products to try and supplement a continuously shrinking new vehicle front-end margin. All the while, the accessory market is tried, true, and tested and continues to grow right outside our grasp.

Almost half of new-vehicle buyers say they plan to customize their purchases in the first two years of ownership and they spend on average $300-$800 per unit, with truck buyer's representing almost 70% of total annual sales, tipping the scales at $1,500 per unit.
What are the top reasons dealers don't sell accessories today?
Failure to consistently execute an accessory presentation process
Failure to effectively merchandise our product
Failure to price accessories competitively in the marketplace – there's greater value in 10 singles than 1 home run
The critical steps you can take today in your dealership to recapture these lost accessory sales:
Get your leadership team philosophically aligned that you're going to go after this business – sales, F&I, service and parts departments operating in silos rarely succeed without a defined direction from the top
Compensate your team for selling accessories
Stock and display top selling accessories in high traffic areas in your store
Equip each of your models with top selling accessories and feature them in your showroom and on your website under a "customized" tag
Make sure each model has an addendum label with a QR code for customers top scan and learn more about the accessories installed on that vehicle
Consider magnetic tags to promote these accessories

Promote your accessories in your service advertising flyers just like you would an oil change or brake service
Get your team together and create an accessory presentation process map that focuses on both the Showroom and Service Drive sales channels
Train your team on the accessory presentation process – have your accessory expert come in and train your teams on top selling accessories, much like you would do with a new model release – Make sure to train on the value difference between your OE accessories and the aftermarkets. I know your accessories are worth more and you know they're worth more, but the customer must know they're worth more and why
Establish an accessory touch point verification process to ensure 100% of your accessories is presented to 100% of your customers 100% of the time
Create a post-sale marketing initiative that continues to pursue the customer for accessories after the sale
Here's a snapshot of the 10 most popular auto accessories sold today, by sales volume:
Floor mats
Window tinting
Protection products
Factory exterior items (such as splash guards)
Bug shields and vent visors
Body side moldings
Step bars
Factory interior products (such as cargo nets, sill step guards, cargo trays)
Wheel accessories
Lo Jack, Clearshield and Bedliners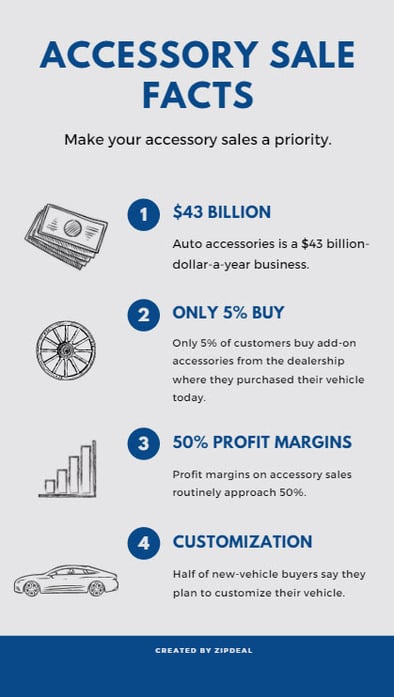 Common Pitfalls to Avoid

Flawed Compensation Models – Few pay plans for salespeople reward them for selling accessories. Consider flat commission for accessories above and beyond any minimum commissions. Many dealerships task their Parts Departments with selling accessories, which does not always play to the strengths of your typical parts counterperson.
Many dealerships direct their Parts Departments to sell their accessories to their Sales Departments at MSRP, keeping all the profit in Parts. Unfortunately, this serves as a disincentive for the Sales Department to present and sell accessories, or to create additional margin above MSRP to make it a worthwhile venture. In these cases, there's only one person that loses, and that's the dealer. Once your salespeople get wind of this, they'll start selling your customer off accessories and sending them to your aftermarket competitors.

An operational and philosophical shift is needed in order to revive this revenue stream. Put your best foot forward when it comes to selling accessories. Empower your Salespeople with the tools necessary to sell accessories and incent them to do it and the results will follow. Here's just one example of gross distribution that serves the dealer and their team's collective best interest:



$100 MSRP accessory:

Cost - $70
Salesperson commission - $10
Sales Department profit - $5
Parts department - $15 (still at or above wholesale rate)
In this model, every department gets a cut of the profits, and all are motivated towards success. As Parts still retains 15% there is still enough profit for them, and above the typical wholesale rate of cost + 10%.


It's time to stop conceding this business to our competitors and keep our customers in our own showrooms and service drives. 80% of the battle with accessories is just showing up to the fight. Follow the blueprint provided and you'll be selling accessories, making more profit, paying your people more and increasing customer retention.