According to Automotive News, only 31% of car buyers in the U.S. are offered the opportunity to purchase Environmental Protection Products (EPP), or paint & fabric protection.
Yet, EPP is #3 in PVR profit, only following warranty and gap products. The average selling price is in the $600 range with around $350 average profit per policy.
With new vehicle margins reduced to crumbs, EPP can provide a much-needed boost for dealers. So, why is EPP not presented and not a top seller when it's proven that it adds value to the customer and hundreds of dollars to every deal?
There are three main obstacles: Lack of dealer knowledge and poor perception about products, lack of proven products with proven support, and lack of process and sales methods that require sales associates to present 100% of the products 100% of the time. Here's how to clear each hurdle.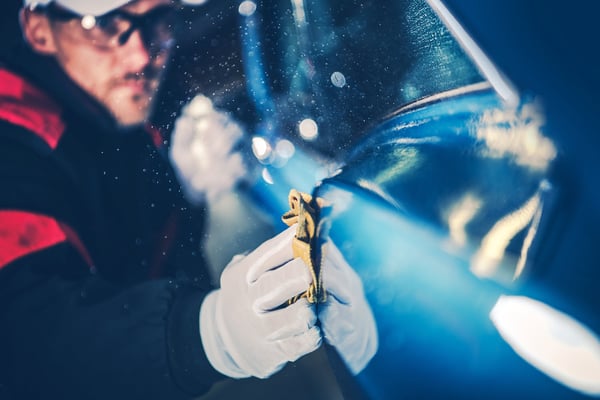 Get the Facts About EPP:
For too long EPP has been perceived as "snake oil." Rather, it's a hugely valuable product that really works. It protects a customer's investment, keeps a vehicle looking pristine, and enhances resale value.
Consumers instinctively understand the value. The numbers prove it. Although only 31% of consumers are offered the product, 42% say yes! For every 100 customers, only 31 are offered the product, but 13 decide to add it to their purchase. Imagine if dealers offered it to 100% of customers; 42 would say yes. That's an additional 348 policies annually. With a superior ceramic product, that's worth $278,400 in additional gross profit! And that's with traditional sales methods.
The "snake oil" perception is likely also due in part to the quality of previous silicon products with limited effectiveness. Ceramiseal is a completely new and innovative product.
Offer Ceramiseal's Proven Products:
Ceramiseal is a proven leader with advanced technology, independent laboratory testing, and hands-on support.
Ceramiseal is not silicon. It is created by combining ceramic and nano diamond technologies to form a chemical bond that encapsulates and enhances a vehicle's exterior and interior. The result is a tough-as-nails protective coating that resists damage from environmental factors like harsh sun and road salt, and human factors, like spilled food and drinks.
Independent laboratory testing proves the products work. Ceramiseal's exterior protection products outperformed competitive products in preventing surface rust from forming after almost 200 hours in a salt spray booth. Vehicle test panels retained 97.8% of their gloss after a simulated 7-year exposure, versus 26.2% gloss retention for unprotected panels. Interior protection products minimized wear and strengthened materials by 49% for leather, 31% for vinyl, and as much as 34% for fabric.
Ceramiseal certifies your detailers to apply the product and your Sales, F&I and Management Teams to sell it.
Proven value, proven effectiveness, now how do you sell it?
Sell More With the ZipDeal Digital Delivery System:
Visual sales tools are the way to sell value to the customers. This includes physical samples of body panels that have and have not been protected, video presentations, and pictures.
The ZipDeal digital delivery system loaded with Ceramiseal product information is an effective visual selling technique. ZipDeal links all the crucial touchpoints between the end of the vehicle negotiations and entering the F&I office on one customer-driven interactive tool.
The protection product piece can be tailored to your region and time of year so the "why buy" is personal and relevant. Customers review presentations and videos at their own pace in a no-pressure environment. The beauty is that every customer is exposed to every Ceramiseal product every time – no exceptions.
This presentation sets the stage for F&I to utilize the normal Finance Questionnaire questions to find the right product for every customer.
The ZipDeal delivery system is proven to increase protection product sales, and when you combine the Ceramiseal product with ZipDeal, you get 66% off Creator and Dealer Principal Steve Lindsay, of Lindsay Automotive, piloted ZipDeal with the top five sales staff at each of the group's two locations. Staff was trained on accessories and EPP and earned commissions on sales. Within three months, protection product sales increased from 5% to over 33%, and reps were earning as much as $3,000 a month in extra commissions.
Conclusion:
Dealers across the country are facing minuscule new vehicle sales margins and rising operating costs. Ceramiseal, when presented properly and consistently, provides a much-needed boost for dealer revenue. Train your sales team on the facts, benefits, and ZipDeal digital delivery system. Our beta stores are averaging an additional $850 profit per policy.
For more information call: 844.997.3730 and visit www.zipdeal.com/ceramiseal